Welcome to a brief introduction of those who are involved in the BAT-EARED FOX PROJECT.
The Project was started up beginning of the year 2000. It began with the idea, to do a PhD about the bat-eared foxes in Namibia. In the course of further considerations regarding the meaning and purpose of such a scientific work, finally the decision was reached to build up a project combining research with protection of endangered animal species.
From the start, my parents had been involved in the organisation of the project. I'm deeply indebted to them. They gave me the necessary backing allowing me to start up the BAT-EARED FOX PROJECT.
ISince July 2001 we do obtain active support also from Dirk Skorski, a wildlife photographer. He is especially in charge of this website and deals with our organisational concerns.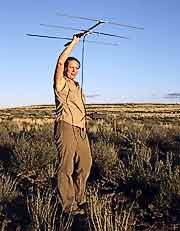 The actual research work will get additional support by local students, studying "Nature Conservation" in Windhoek. Their traineeship enables us to take care of the project management and the maintenance of our research centre.
Last but not least, I'd like to introduce myself as the initiator and director of the BAT-EARED FOX PROJECT. My name is Margit Hülpert. In January 2000 I finished successfully my veterinary degree at the university of Leipzig, Germany. Since April 2000, I'm a registered vet in Germany. Besides working in the scientific field of the BAT-EARED FOX PROJECT, I also take care of the financial field.